2010.07.06 15:10:44
82655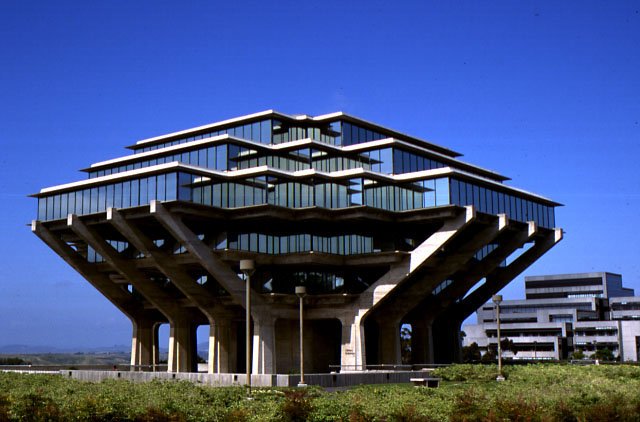 가이젤도서관(Geisel Library)
은 캘리포니아대-샌디에이고(UCSD)에 많은 책을 기증하고 리터러시 향상에 이바지한 그림책 작가 닥터 수스(Dr. Seuss; 본명은 Theodor Seuss Geisel)를 기리기 위해 1995년에 새롭게 붙인 이름이다.
리듬과 각운이 탁월한 닥터 수스의 책은 지금도 아이들의 읽기 연습을 위한 고전으로 쓰이고 있으며, 'The Cat in the Hat(더 캣)'와 'How the Grinch Stole Christmas(그린치)'같은 작품은 각각 영화로 제작되기도 했다. 가이젤도서관은 그의 육필원고, 스케치, 노트, 사진 등 8천 5백여 점의 각종 유품과 책을 소장한 닥터 수스 콜렉션을 별도로 운영하고 있다.
만화영화의 전투로봇과 교신하는 관제탑처럼 생긴 가이젤도서관 건물은 미국 서부지역 대학의 주요 건축물을 설계한 바 있는 윌리엄 레오나드 페레이라(William Leonard Pereira)가 두 손으로 지식을 떠받드는 모습을 형상화한 것이다.1970년에 'Central Library'란 명칭으로 완공된 후 1992년에 노후된 설비와 일부 시설의 리노베이션을 시행했다. 8층(실제는 7층)으로 구성된 타워는 지상으로부터 110피트 떨어져 있다. 1~2층은 서비스데스크와 직원업무공간으로, 4~8층은 서고와 학습공간으로 구분되어 있다.
이 도서관은 UCSD 캠퍼스의 중앙에 배치되어 있으며, 대학뿐만 아니라 샌디에이고를 상징하는 랜드마크로 자리잡았다. 워낙 사람들의 입에 자주 오르내리다보니 "책 무게 때문에 도서관이 침하하고 있다", "3층이 존재하지 않는 이유는 설계 과정에서 책 무게를 잘못 계산했기 때문이다(실은 설계 당시 1층으로 부여된 층을 나중에 4층으로 명칭만 변경한 것일 뿐이다)"는 따위의 캠퍼스 괴담(urban legend)을 얻는 식으로 유명세를 톡톡히 치렀다.

홈페이지 및 도서관 사진을 볼 수 있는곳 : http://libraries.ucsd.edu/about/geisel-building.html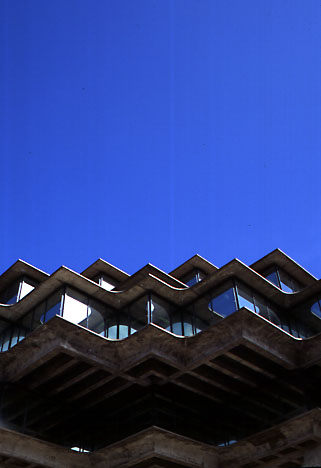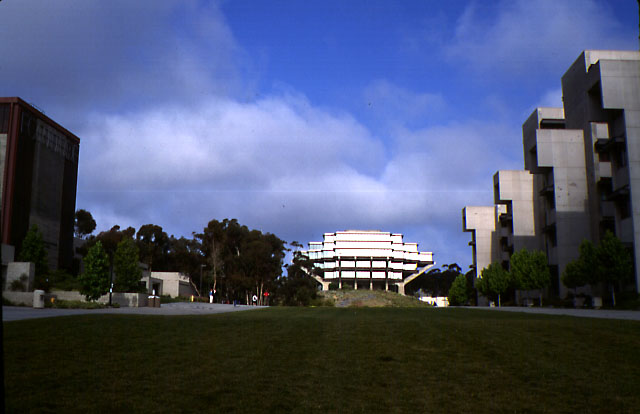 출처:서울대학교 중앙도서관 블로그